By Marketing | 25 June, 2020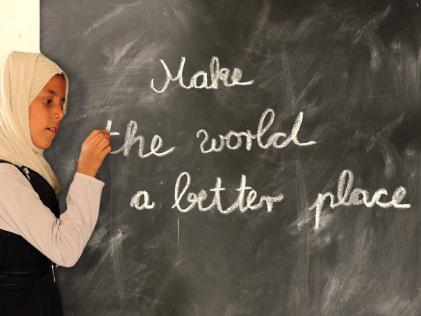 1. Colish
Colish, or simply 'Co' is the short form for 'Common English': An English for a global village, with a harmonized English spelling and a couple of spelling rule changes, so as to make it simpler, more efficient.
Colish will make it easier for children, students and adults to learn English, empowering them to more opportunity and joy.
For corporates it will help to improve culture as well as improve efficiency.
In the longterm it's making it easier for the human race to communicate in a common language.
You can read more about Colish here.
2. CoWorld - The Initiative
Colish.org is the home of the 'Colish (Common English) Initiative', also called CoWorld, whose purpose is to establish a common English spelling around by the world as well as make English easier to learn, write and read.
3. Why?
One of the reasons is spelling. If you communicate in English to others around the world, either per email, on a website or writing documentation, you have to make a decision: You have to decide if you are going to write in American, British or other English. We want to make it easier, make it international. We want to establish a common spelling - a Common English. Thereby helping individuals, organisations, exporters, nations.
Another reason is the dramatic consequences of not being able to master the language at an early age. One in four adults are illiterate in the English speaking countries. They have difficulties using cash dispensers, smartphones, social media, to integrate into normal life. They have less chances in life, less money.
If English was simpler to read and write, children could learn it faster, be better in other subjects, be better all around, have more joy, and achieve more in life. Illiteracy would be less.
The knock-on effect is better employment, less crime, less social costs for the tax payer, a better society, humaneness.
4. Ambitions
We think it is time for change, to start to do some long term planning, to start bundling resources, to put the controlled development of next generation English (ngE) on the Roadmap for humanity.
We want to:
Simplify English over a long period of several decades.
Thereby
Accelerating the learning of children.
Reducing illiteracy caused by school problems.
Making it easier for English to be the lingua franca.
Our first targets are:
Harmonize the national spellings into one preferred dictionary.
Have the Colish dictionary be installable on 1 billion mobiles by 2022.
5. Alliance
To get things rolling and to coordinate activities around the world the Initiative is to be powered by the Alliance, an international non-profit organisation, open to social and linguistical experts, teachers, educational institutes, tech and exporting organisations, national policy makers.
6. Foundation
The Inititive is to be guided by a Foundation which serves as a long term steering instrument.
7. Areas of activity
A first description of the 'energy areas' of CoWorld can be found under /org/CoWorld.
To bring partners together, we have started the Co5s Program (Standards, Simple, Support, Seqence, Sync)..
Some of our activity areas are:
8. Interested in getting things going?
If you are interested, please contact us below and one of the team will get back to you.
We are looking forward to speaking to you :-)
Call us
UK: 0121 400 1181
Germany: 030 2238 1299
International: +44 121 400 1181
Or drop us a line: